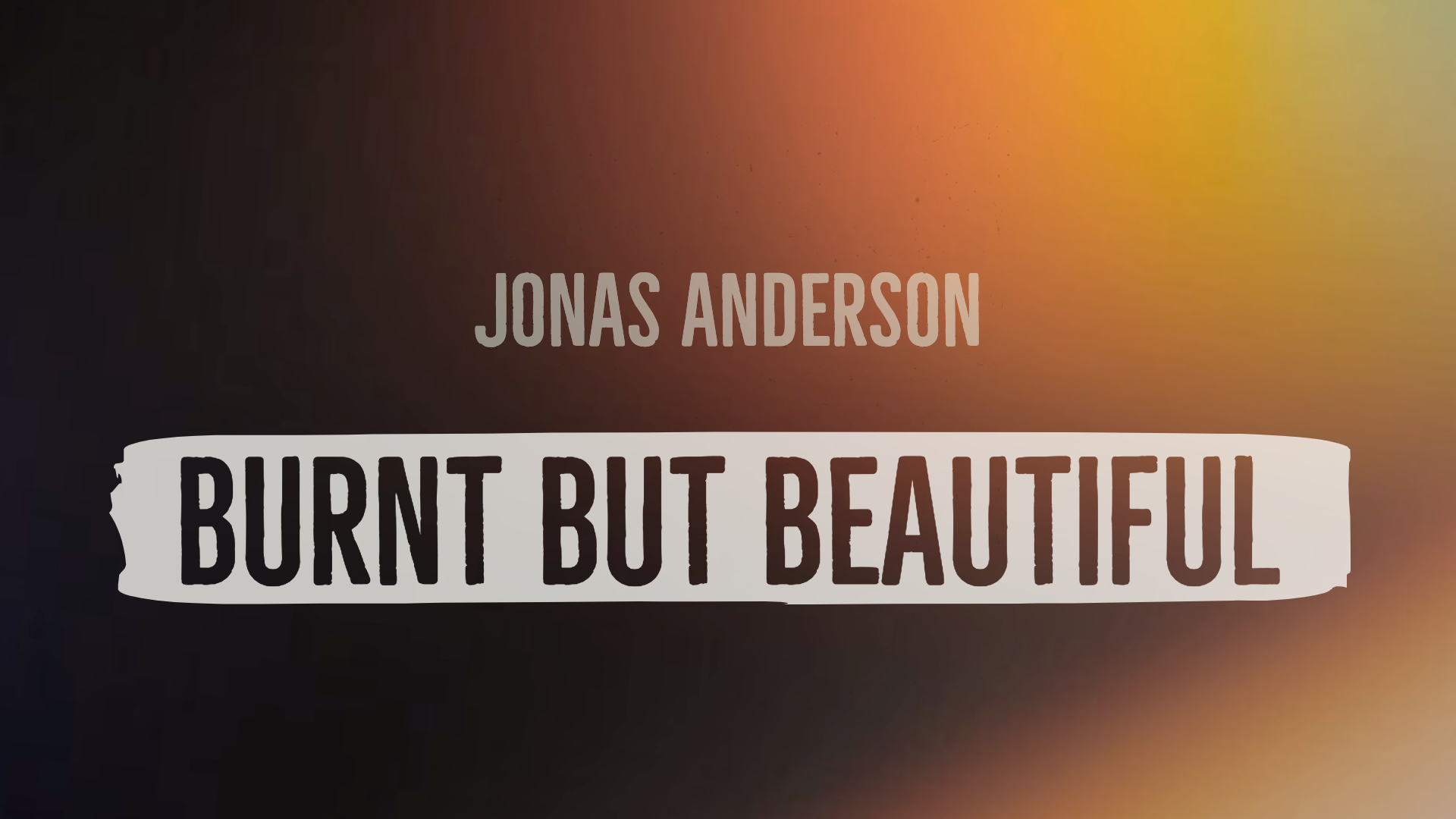 Burnt But Beautiful
BURNT BUT BEAUTIFUL
Update Required
To play the media you will need to either update your browser to a recent version or update your
Flash plugin
.
---
No hands to raise, in heartfelt praise
No voice to sing, in adoration
No words to use, expressing honor
No tears of joy, no deep emotion
But what is Yours, not mine to claim
All I deem to own, is Your possession
Chorus:
Nothing have I to offer You
But what is Yours. What can I do
To show my thanks, my gratitude?
A vessel broken, weak and sinful
I humbly come with words so simple
Please … make my burnt offering beautiful
All that I have, all that I am
It comes from You, You are the reason
The Mighty King of all creation
Why would You want my feeble offering?
I know it's all Yours, but it's all I have Lord,
I give it back without hesitation
Bridge:
Who am I, and who are YOUR people
That we could give anything to You?
For All Things, They come from you
And of Your own we give to you
Chorus 2:
Nothing have I to offer You
But what is Yours. What can I do
To show my thanks, my gratitude?
A vessel broken, weak and sinful
With empty hands up raised and heart full
I humbly bring these words so simple
Please … make my burnt offering beautiful
You make what's burnt and broken beautiful
Producer : เรืองกิจ ยงปิยะกุล
เนื้อร้อง/ทำนอง : โจนัส แอนเดอร์สัน
เรียบเรียง : เรืองกิจ ยงปิยะกุล
Acoustic Guitar : สัจจะ ศรียุทธไกร
Drum : จีรศักดิ์ ขวัญหวาน
Bass : บุรินทร์ สุภัครพงษ์กุล
Mixed and Mastering : บุรินทร์​ สุภัครพงษ์กุล
ห้องอัด : Flow Studio, Shengzim Studio, Raku Studio
---
| | | |
| --- | --- | --- |
| | F#m7 | E |
| No hands to | raise, in heartfelt pr | aise |
| | | |
| --- | --- | --- |
| | F#m7 | E |
| No voice to | sing, in adora | tion |
| | | |
| --- | --- | --- |
| | F#m7 | E |
| No words to | use, expressing h | onor |
| | | | |
| --- | --- | --- | --- |
| | A | Bsus4 | E |
| No tears of | joy, | no deep e | motion |
| | | |
| --- | --- | --- |
| | G#m | C#m |
| But what is | Yours, not mine to c | laim |
| | | | | |
| --- | --- | --- | --- | --- |
| | D9 | A | B | A B |
| All I | deem to own | , is Your po | ssession | |
| | | | |
| --- | --- | --- | --- |
| G#m | A | F#m | Bsus4 |
| Nothing have | I to | offer Y | ou |
| | | | |
| --- | --- | --- | --- |
| G#m | A | F#m | Bsus4 |
| But what is Y | ours. What | can I | do |
| | | | |
| --- | --- | --- | --- |
| | A | F#m | B |
| To | show my thanks, my | gratitu | de? |
| | |
| --- | --- |
| A9 | Bsus4 |
| A vessel broken, w | eak and sinful |
| | | |
| --- | --- | --- |
| | A | Bsus4 |
| I | humbly come with | words so simple |
| | | | |
| --- | --- | --- | --- |
| D9 | A | Bsus4 | E |
| Please ... | make my burnt | offering be | autiful |
| | | |
| --- | --- | --- |
| | F#m7 | E |
| All that I | have, all that I a | m |
| | | |
| --- | --- | --- |
| | F#m7 | E |
| It comes from | You, You are the re | ason |
| | | |
| --- | --- | --- |
| | F#m7 | E |
| The Mighty K | ing of all cre | ation |
| | | | |
| --- | --- | --- | --- |
| | A | Bsus4 | E |
| Why would You | want | my feeble off | ering? |
| | | |
| --- | --- | --- |
| | G#m | C#m |
| I know it's all Y | ours, but it's all I h | ave |
| | | | | |
| --- | --- | --- | --- | --- |
| | D9 | A | B | A B |
| Lord, I | give it bac | k without hes | itation | |
| | | | |
| --- | --- | --- | --- |
| | G D/F# | E | Esus4 E |
| Who am I, | and who are YOUR p | eople | |
| | | | | |
| --- | --- | --- | --- | --- |
| | G | D/F# | E | Esus4 E |
| That we coul | d give | anything to Y | ou? | |
| | | | | |
| --- | --- | --- | --- | --- |
| | Bm | A | E | Esus4 E |
| For all | things | they come from | you | |
| | | | |
| --- | --- | --- | --- |
| | D9 | A9 | Bsus4 |
| And of Your | own | we give to | you |
| | | | |
| --- | --- | --- | --- |
| G#m | A | F#m | Bsus4 |
| Nothing have | I to | offer Yo | u |
| | | | |
| --- | --- | --- | --- |
| G#m | A | F#m | Bsus4 |
| But what is Yo | urs. What | can I | do |
| | | | |
| --- | --- | --- | --- |
| | A | F#m | B |
| To | show my thanks, my | gratitu | de? |
| | | |
| --- | --- | --- |
| | A | Bsus4 |
| A | vessel broken, | weak and sinful |
| | | |
| --- | --- | --- |
| | A | Bsus4 |
| With | empty hands up | raised and heart full |
| | | |
| --- | --- | --- |
| | A | Bsus4 |
| I | humbly bring these | words so simple |
| | | | | |
| --- | --- | --- | --- | --- |
| | D9 | A9 | Bsus4 | E |
| P | lease ... | make my burnt | offering b | eautiful |
| | | | | |
| --- | --- | --- | --- | --- |
| | D9 | A9 | Bsus4 | E |
| You m | ake what's | burnt and | broken be | autiful |
Producer : เรืองกิจ ยงปิยะกุล
เนื้อร้อง/ทำนอง : โจนัส แอนเดอร์สัน
เรียบเรียง : เรืองกิจ ยงปิยะกุล
Acoustic Guitar : สัจจะ ศรียุทธไกร
Drum : จีรศักดิ์ ขวัญหวาน
Bass : บุรินทร์ สุภัครพงษ์กุล
Mixed and Mastering : บุรินทร์​ สุภัครพงษ์กุล
ห้องอัด : Flow Studio, Shengzim Studio, Raku Studio
---